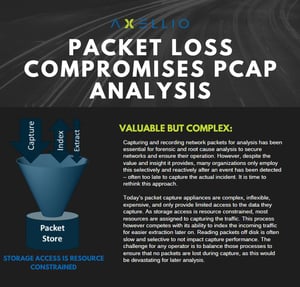 Packet Loss Compromises PCAP Analysis
Capturing and recording network packets for analysis has been essential for forensic and root cause analysis to secure networks and ensure their operation. However, many organizations only employ network recording selectively and reactively after an event is detected. It is time to rethink this approach before it is too late.
Download our free infographic and learn why the current approach to network traffic recording leads to incomplete data, unresolved threats, and infrastructure issues. That's why a new approach is needed to accelerate time-to-resolution through faster reconstruction of events at reduced complexity, size, and cost.
Download the Packet Loss Compromises Infographic