Colorado Springs Cybersecurity Firm Earns $39.5 Million Contract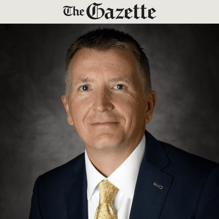 Jessica Van Dyne
Apr 5, 2023 1:55 PM
Axellio, a Colorado Springs-based cybersecurity company, won a three-year, $39.5 million contract last month to monitor and protect U.S. Army installations' internet networks around the world.
The contract will deploy, maintain and update software and hardware known as U.S. Army's Garrison Defensive Cyberspace Operations Platform (GDP), which is designed to surveille and detect unusual traffic and intrusions on garrison networks. The contract builds on Axellio's three previous agreements with the U.S. Army and is the company's largest contract yet.
"This is a big deal for both the Army and Axellio by allowing a small business, a 20-plus person company, that is supporting a significant portion of the Army's defensive cyber operations and doing a great job," Scott Aken, the company's CEO, said.
Aken, who was named CEO of Axellio nearly a year ago, said a contract of this size and status brings attention and credibility to the company and helps it market its services to a larger customer base.
Axellio collaborated with World Wide Technology and Red Hat, subcontractors on the project, to develop dimensions of the cybersecurity technology including its virtualization software, OpenShift, which helps the software use memory more efficiently, reduce power and operate more flexibly.

Axellio intends to hire a couple of additional employees as Aken hopes to grow the company and branch out with sights set on working with U.S. Space Command and Space Force.
"We are looking to get more and more involved with them in the Colorado Springs community," Aken said.

Jessica Van Dyne
jessica.vandyne@gazette.com


Axellio Participating in Catalyst Accelerator Cohort
Axellio has been selected to participate in the Catalyst Accelerator's cohort focused on Defensive Cyber Operations for Space (DCO).
Axellio Names Scott Aken Chief Executive Officer
Aken brings a passion for securing and defending against cyber threats with more than 20 years in cybersecurity and mobile technologies.


The DoD Zero Trust
Playbook
The U.S. Department of Defense (DoD) recently issued a Zero Trust strategy and roadmap.